Born February 1, 2012, cou clair with blue eyes and moonspots. Nicknamed "blueberry." Daughter of one of our favorite does,
Kush-Hara Cheyenne
, Blueberry is such a great girl, easy kidder, with a lot of bling. Photo 2021.  
Pedigree
.
First freshening about a week fresh
Blueberry (left) and daughter
Haily Berry
(right). Feb 2022.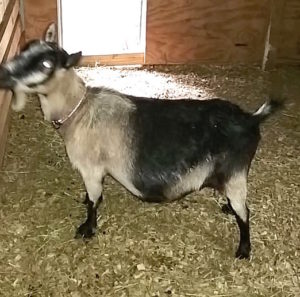 Blueberry 2021
Blueberry as a jr doe.
∞

∞∞∞∞∞∞∞∞∞∞∞∞∞∞∞∞∞∞∞∞∞∞∞∞∞∞∞
Show record
 

6/10/12

 

3rd place Cleveland County Dairy Goat Show, intermediate 4-8 mo.



 


 

 

 
∞∞∞∞∞∞∞∞∞∞∞∞∞∞∞∞∞∞∞∞∞∞∞∞∞∞∞

Blueberry's pedigree
Five-Points Sirius Intrigue
sire's sire: NC Promisedland RC Zoro
Sire's grandsire: Rosasharn TL Cauldron*S E90
Sire: Doublegate Z Sirius Spots

SG NC Promisedland SIA Zena 3*M
sire's dam: Doublegate PAL Majic
Sire's grandsire: CH/MCH Piddlin Acres Dancer's Libido *S
Sire's granddam: Piddlin Acres Pandoras Box
Dam's sire: Wooly Dog down Regent Skipper+*S
dam's grand sire: Gay-Mor's LT Blue Nash Bridges *S
dam: Kush-Hara Cheyenne

dam's grand dam: Gay-Mor's Kingpin's Lacewing 4*D)
Dam's dam: Kush-Hara Maggie 2*D AR
great grand sire: Enchanted Hill O'Leary +S


great grand dam: Sides Cinnamon Bun *D AR